linking up with my
sister
today for saturday morning scene...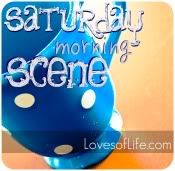 it's been a rough couple days for me with hour long cry fests that result in waking up with swollen puffy eyes. just lovely i tell ya. so yesterday i decided to do a puzzle. why? i have no idea. it just sounded appealing to me. and actually? it's been kind of therapeutic. with coffee in hand and music in the background this is how i spent my saturday morning.
of course i did all the easy stuff first so now i'm left with all the annoying pieces that look exactly the same. if anyone's looking for me i'll probably be at the kitchen table banging my head out of sheer frustration.
happy saturday!